Power Options for Automatic Gates
Solar Powered Systems
Yes Solar Gate Motors do work so long as the solar panel is not in the shade of any trees. There are rumors on the Internet that solar powered automatic gate motors are not reliable, well this may be so if they're not optimized properly, you cannot just take any old 12V or 24V sliding gate motor, add a solar panel and battery to make it into a solar powered motor, it doesn't work that way.
A Solar Gate Motor should conserve power when not being used so the battery holds it charge, then it will last a week or two without any sun and requires only a day of full sun to recharge fully. We find gate motors optimized like this need only a 20W solar panel and 7Ah battery to work reliably even with days of rainy weather, which makes solar a very attractive option to installing cabling to your gate particularly if you're on acreage. If you find you aren't getting enough power you can always add more batteries and solar panels.
If the gate isn't in a sunny spot
The solar panel may be installed away from the gate where there is plenty of sun and a low voltage cable run back to the gate. This cable need only be light duty cable as it is only providing a trickle charge keeping the cost to a minimum.
If you have a lot of trees around that shade the solar panel
You'll either have to install much larger solar panels, a wind turbine or run low voltage cable to where ever mains power is available or where there is sunlight.
A charge controller or regulator
Is necessary to prevent the battery from over charging other wise it could leak acid, not last very long and could possibly explode (have seen this happen). It also prevents the solar panel from discharging the battery when its dark. Motors optimized for solar will have one of these built in or as a small separate circuit board.
Solar Friendly Accessories
Any accessories added to a solar gate motor must be optimized for solar so they don't run the battery flat at night or on cloudy days. For example a standard wired Digital Keypad is NOT solar friendly so a wireless digital keypad should be used. The same goes for intercoms they too must be solar friendly or have their own solar panel and built in backup battery.
Safety Photocells
Are only needed when the gate is in use so a solar optimized gate motor should be capable of powering up photocells only when the gate is in use so the backup battery doesn't run flat.
In ground vehicle detectors
Do come in solar friendly varieties so can also be used with Solar systems.
... more on In Ground Vehicles Detectors
Low Voltage Systems
Plug into a power point away from the gate so require only low voltage cable out to the gate, which can be a lot more economic to install than a power point at the gate. Low voltage systems have a Backup Battery at the gate that is charged and conditioned automatically during normal use for reliable operation during a power failure.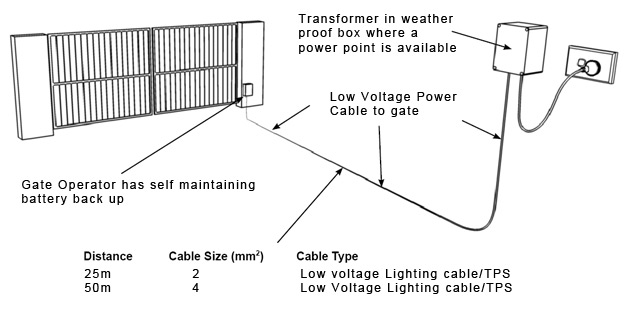 ...info on installing low voltage cable
Plug In at the Gate
If you'd prefer to have a power point at the gate or have your gate hard wired to mains power and not have a battery back up it is a good idea to have a small side gate or some other way to get into your property so if there is a power cut and you're out you can gain access to the property with this to manually release the driveway gate and open it by hand.
Battery Back up
If installing power at your gate and you'd like a battery back up most 12V and 24V Gate motors have this option although to be reliable the controller should condition the battery during normal use so it will in fact work in the rare event that a power cut may occur. Battery conditioning is when the gate starts moving some power is drawn form the battery each time so the battery chemistry stays good. The battery is kept charged automatically by the gate motors control electronics an should be replaced every 3 to 5 years.
Battery Back up for Large Numbers of Users
Automatic gates for Gated Communities or Housing Complex's need a much larger battery back up system because of the larger number of users and the fact that a person to manually release the gate may not be around at the time. Another option is if the power goes off the gate will automatically open with the battery back up and then shuts down waiting for the power to come back on again so it can return to normal operation. This option uses a much smaller battery backup but security is lost during power failure.