How Telescopic Stacker Gates Work
Ideal for sliding gates in limited or difficult space using two separate sliding gate leaves stacked one in front of the other requiring only half the space to open as single leaf sliding gate.
Telescopic gates can have different infills including timber pickets, aluminium tubing, aluminium slats, hardwood slats or Colorbond with either steel or aluminium frames. DIY kits can be sent anywhere in Australia or if you're in Brisbane, Ipswitch, the Gold Coast or Sunshine Coasts we can install it for you.
If you're not sure if you can install a telescopic gate yourself check out Installing a Telescopic Gate.
... prices for Telescopic Gates

The guide system uses a block and rail guide for each of the gate panels. The back panel can have a "U' shaped guide bracket that goes over the top of both the front and back panels or can be fitted to a guide post behind the gate.
The guide block for the front gate fits on the back gate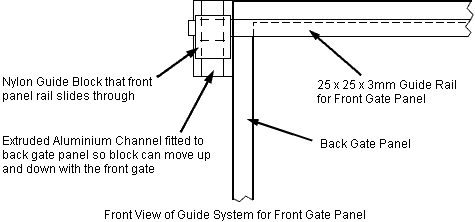 The back gate is powered with a normal sliding gate motor although a more powerful motor is recommended for telescopic gates because it powers the front panel too using our own drive mechanism called 'Power Stack', which is suitable for any width of gate and Telescopic Gates on a sloping driveway.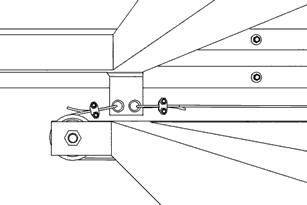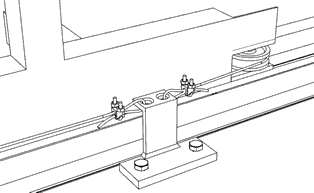 The wire rope attaches to the front gate, wraps around the back gate and attaches to a ground mounting bracket.
Telescopic Gates can be installed on driveways that have slope across the driveway (camber) with the top rail following the contour of the driveway or stepped to match the fence line.


If the Top Rail of the Gate is stepped the guide rail can be on the middle rail of the gate or in some cases ie. with vertical metal slat gates can become the middle rail.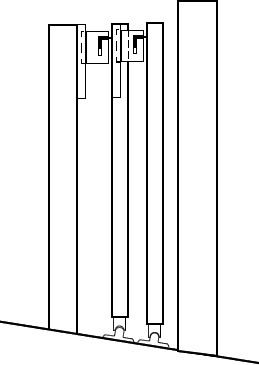 The back gates height needs to be adjusted to allow for this as it will be higher than the front gate.