How to Install a Telescopic Sliding Gate
Telescopic sliding gates are used when there isn't enough room for a single panel sliding gate to open because they require only half the space.
When Installing an Automatic Gate that will be entered from a public road way, make sure the Gate is placed far enough from the road to prevent traffic congestion and is installed in a location that provides adequate clearance between it and adjacent structures when opening and closing to reduce risk of entrapment.
The Gate and Gate Operator must comply with any applicable local council regulations.
Installing the Footing for a Sliding Gate allowing for a Motor
If you have a concrete driveway or paver's glued to a concrete base then the footing for your sliding gate is halfway there. If you have a bitumen or gravel driveway.
... more on Footings for Telescopic Gates
Installing Posts for Sliding Gates
Metal posts are best because they don't warp or twist with changes in weather conditions. Posts for sliding gates don't need to be as large as those for swing gates.
... more on Posts for Automatic Gates
Installing the gate
Fit the wheels to both gate panels first using Tek screws. This makes it easier to move them around with scratching them.
Lay the tracks down where the gate is to be installed but don't fix it in place yet.
If using a 'U' bracket, block and rail use 'F' Clamps to clamp the bracket to the gate post or wall other wise if you haven't already install the guide post. Place both gate panels on their tracks and fit the guide blocks so you can test whether the gate opens and closes properly without rubbing on the track.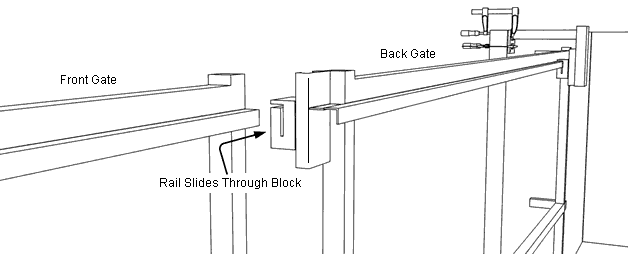 If the gate does rub on the track you can pack the wheel out a bit so the gate sits a little higher and stop this happening. You may need longer Tek screws to refit the wheel.