How to Install a Sliding Gate Motor
Normally to install a sliding gate motor (Operator) you'd follow the instructions that came with it but if these are in a foreign language or are so badly written they may as well be, then this page is here to help!
Safety
If a push button, key switch or Digital Keypad is installed to open the gate, they should be within sight of the gate but not placed so the user will be tempted to reach through the gate to open it.
Double swing gates should have a delay between left and right hand panels closing because if they close at the same time and a small child gets in between them they could be crushed. If each side closes at a different time then this cannot happen as the forces applied are much less.
Type of Use
Gate motors are rated for residential or commercial use. Residential motors are intended for one residence that gets used only a few times a day although a good quality residential motor will work fine for up to four residences sharing one gate or up to 60 operations per day on average.
If more than one residence is sharing a gate then it is necessary to use the Auto-close feature with access controls set to Open only mode (or condominium mode) so the gate will only close after a time delay. Point to Point Photo Electric Safety Beams (Photocells) should be installed to prevent the gate closing on a vehicle.
For Gated Communities where traffic can be up to 300 operations a day a Commercially rated gate motor is necessary as a residential motor will wear out very quickly. There's also other considerations such as peak traffic flow, controlling access.
... more on Automatic Gates for Gated Communities
Gates for Commercial premises don't necessarily need a commercially rated motor, if the gate is only to be opened in the morning automatically with a timer then closed at night then it's not getting a lot of use and so long as the motor is large enough for the gate a residential motor will do. Although if the gate is exposed to a lot of public foot traffic, steps may need to be taken to make the motor more vandal proof ie. a metal cage put over it. If the gate gets a lot of use then a Commercially rated motor is required.
... more on Automatic Gates for Commercial Gates
A majority of motors available need to plug into a power point at the gate or can be hard wired to mains power. Some motors have a Low Voltage Power Option where they plug in away from the gate and low voltage cable only is required to the gate, which can be much more economic than installing mains voltage and they come with a battery back up so you don't need to worry if there's a power failure. A third option is Solar Powered although it's best to stick with a motor designed specifically for Solar Power for reliable operation.
... more on Power Options for Automatic Gates
Installing Cabling
For mains power to be run out to the gate it needs to be trenched 600mm down in most area's, you'll need to get your local electrician to take care of installing mains power cabling. For low voltage cable including cables for a second motor and accessories you can do this yourself.
... more on Installing Low Voltage Cable
Motor Rating
Its important to use a motor that is large enough for the gate. Sliding gate motors are rated for the weight of the gate on level ground. If your driveway has a slope across it (camber) you must use a higher rated motor
Another important factor is the type of use a gate will get, if a motor is rated for residential use it may not be suitable for Gates that get a lot of use, like those in a gated community or office block where they may be used 300 times a day, they will simply wear out in a short amount of time or may even over heat if they are used a lot at once. A continuously rated industrial motor is more suitable for this application as they can handle bursts of heavy use and high numbers of openings per day and do so for many years.
Also gates with a lot of users must use the Auto-close feature and set to Open only by remote controls or what ever other device is used to open the gate, it will close automatically after a time delay. A Point to Point Photo Electric Safety Beam (Photocell) must also be installed to prevent the gate closing on a vehicle
... more on photo electric beams.
For Bi-Parting Gates a double sliding gate motor is required that normally has control electronics in one motor or in a separate box and requires cable across the driveway to a second motor including cables for any limit switches, magnetic sensors and encoders. If a motor has a separate button on their remote control for open and close then two of these motors may also be used for Bi-parting gates with remote controls being shared.
For Telescopic Gates only one Motor is required but it must be rated for a larger gate because one half of a telescopic gate runs at twice the speed so requires more power.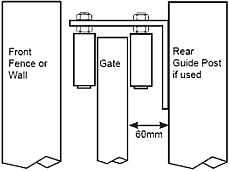 The gate must open and close freely without guides binding, worn wheel bearings or any part of the gate rubbing on the track.
Posts for sliding gates should be steel or seasoned hardwood that won't warp as this may cause the gate to miss the keeper over time and not work properly.
If the gate has a guide post there must be at least 60mm clearance for the rack, which is fitted to the back of the bottom rail of the gate.
The motor needs a suitable concrete pad to be installed on that is level
... more on installing pads for motors
The motor has an output gear that connects to rack on the gate, as the output gear turns the gate moves.
Different sliding gate motors have different methods for determining where the fully open or closed position is so they know when to stop. The most common method being a strike plate fitted to each end of the rack that triggers a limit switch on the motor.
Another method is using a magnet fitted to the rack at each end and a magnetic sensor inside the motor casing that detects the magnet and stops the motor. Some motors have a rotation counter or encoder that counts a pre-set number of rotations of the motor it takes to get the the end. When installed these motors must learn how many rotations there is to the open position. Encoder motors usually rely on the motor slowing down and stopping gently against the keeper to set the closed position eliminating the need for anything on the rack so there is nothing outside of the motor to be broken off or bumped out of alignment they tend to be more reliable than other systems.