How to Install Footings for Sliding Gates
A sliding gate rolls on a metal track that must have a good solid foundation. If you have a concrete driveway or paver's glued to a concrete base then you're half way there. A slope on your driveway is ok so long as it is reasonably straight, isn't too uneven, too steep or your gate too heavy
... more on Sliding Gates on Sloping or Uneven Ground

Concrete footings.
If you don't have a concrete driveway then you'll need to install a concrete footing across the driveway that should be at least 300mm wide x 150mm deep with 200mm wide trench mesh set in the middle. Trench mesh is a lot more effective than a single larger bar of rio or reinforcing steel.
If you have a paved driveway and the pavers are not glued to a concrete base you can either replace a line of paver's with concrete or pull up the paver's, install concrete underneath and glue the paver's to the concrete keeping consistency in the appearance of the driveway.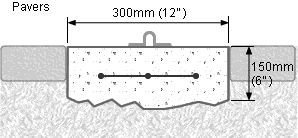 If you have a bitumen driveway you will need to remove a strip of bitumen and replace it with concrete. This concrete can be coloured black to blend in better with the bitumen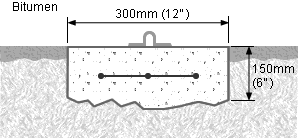 If you have a gravel driveway you will need to excavate and install a concrete footing. Gravel driveways should have the centre raised up a little higher to prevent gravel from building up against the track.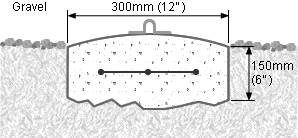 The footing behind your fence or wall will only need to be 220mm wide x 100mm deep because it is bearing only the weight of the gate spread out evenly by the track so doesn't even need any reinforcing steel in it.
Footing dimensions including a Pad for a Motor
If you want to automate your sliding gate you'll require a pad to install a gate motor. These are normally 400mm square x 100mm deep with extra for a guide post if needed. The pad for the motor should be level, even if the rest of the footing isn't and should be well drained because you don't want water running through the motor as this could damage it for good.
Note: Nothing extra is required on the opposite post to the gate motor where the keeper is because the gate wheels are set in by at least 500mm so the track can stop short of the edge of the driveway.
Metal rail behind the fence
If preferred a metal rail can be used instead of a concrete footing behind the fence or wall that could have a either a metal frame or concrete pad for mounting the motor.