How to Choose between a Swing or Sliding Gate
A Sliding Gate
The advantage of sliding gates is they aren't effected by the wind like a swinging gate is and don't take up any space from your driveway but they do need room for the gate to slide open. The gate may slide to the left or right depending on the space available. The space required is the width of the gateway + 30cm. The drawings below are views of gates as seen from above (plan view)
... more on Sliding Gates on Sloping Ground
Bi-Parting Sliding Gates
If there isn't enough space on either side a Bi-parting sliding gate may work as this requires only half the width of the gateway + 30cm on each side and meets in the middle. Bi-Parting gates can have one side wider than the other if needed to make them fit.
... more on Bi-Parting Sliding Gates
Telescopic Sliding Gates
Another option is a Telescopic gate which is also a two piece sliding gate but both pieces slide in the same direction so you only need half the width of the gateway + 30cm. The main draw back with a telescopic gate is one gate sits behind the other, which doesn't look as nice as a single piece or bi-parting gate.
Situations where a Sliding Gate could be chosen over a Swing Gate are:
The driveway slopes up from the road and the gate is on the front boundary.
The driveway length is limited and you wish to park a car close to the gate and still be able to open it.
You want a fully clad gate for privacy but your property is prone to strong winds.
The gate way is wider than normal ie. 6 metres.
Cantilevered Sliding Gate
If your driveway is gravel or uneven it isn't suitable for a sliding gate with a track but you can have a sliding gate that requires no track across the driveway because it is cantilevered.
A Swing Gate, Hinged Gate or Inward Opening Gate
A double swinging gate takes up less driveway space than a single gate, is effected less by the wind and causes less stress on a gate motor(s), posts and hinges so will last longer but does require a cable across the driveway if automated
... more on installing low voltage cabling.
To compare pricing between a swing and sliding gate of various different types and styles see our compare gate pricing page
Hinges behind Post to take up less driveway Width
Swing Gates can have the hinge inside the Gateway so the gate is in the middle of the post or it can be around the back of the post so the gate takes up none of the Gateway width or gate has a very wide opening angle.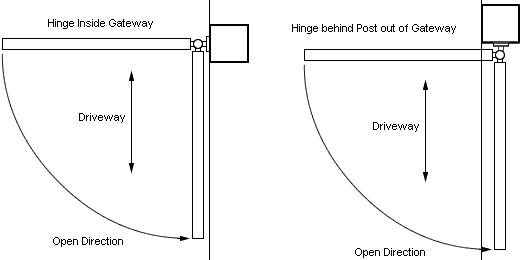 Outward Opening Gates
Swinging gates normally open inwards from the road but if a driveway is sloping up from the road then the gate may open outwards. Outward opening gates should be set back into a property enough so they don't open out onto a public thoroughfare ... more on Outward Opening Gates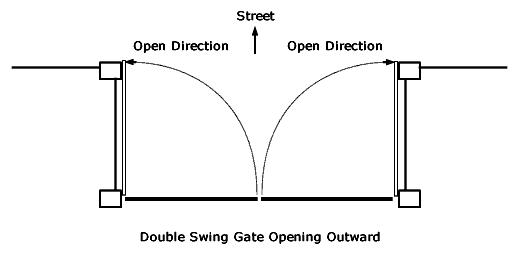 Situations where a Swinging Gate could be chosen over a Sliding Gate are:
The driveway slopes down from the road and is long so a swing gate would be more economic to install.
The driveway has no where for a sliding gate to slide to.
The driveway is very uneven or has a large drain.
If you could have both a swing or a sliding gate, generally a swing gate is simpler to install and you don't have to worry about keeping the track clear.
Swing Gates with Rising Hinges
If there is no room for a sliding gate to slide, the driveway is sloping up from the road, you don't want a large gap under the gate and it's not practical to open outwards then a swing gate with a rising hinge may work.
The disadvantage of a rising gate is the weight of the gate must be lifted when opening, which increases with the width of the gate and the more it rises. Also the gate kicks out when opening, which reduces the usable width of the driveway. The amount it kicks out increases with the rise and height of the gate although if the gate is mounted around the back of the posts this can be minimised ... more on Rising Gates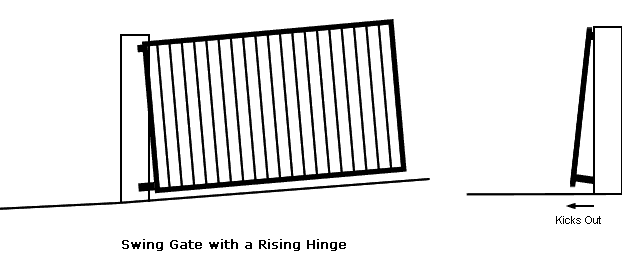 Bi-Folding Swing Gates
If none of the above will do another option for tricky situations is a folding gate. The advantage of this is they take up less driveway space than a single piece swing gate or even a double swing gate and can be made to rise more because the width isn't as great so can be designed to get around steeply sloping driveways with limited space etc... ... more on Bi-Folding Gates