How to Install an Articulated Arm Swing Gate Motor
Articulated Arm Motors are also known as Bent Arm, Knuckle Arm or Folding Arm Motors.
How they Work - Articulated Arm Swing Gate Motors
The motor consists of a box with a built in electric motor, gearing and electronic controls that fits onto a gate post and has an articulated arm connecting to the gate. Some motors have the control electronics in a separate weather proof box. The motor is activated by a wireless hand held remote control (handset) or other device such as a digital keypad or intercom. When activated the articulated arm turns slowly pulling the gate open or pushing it closed.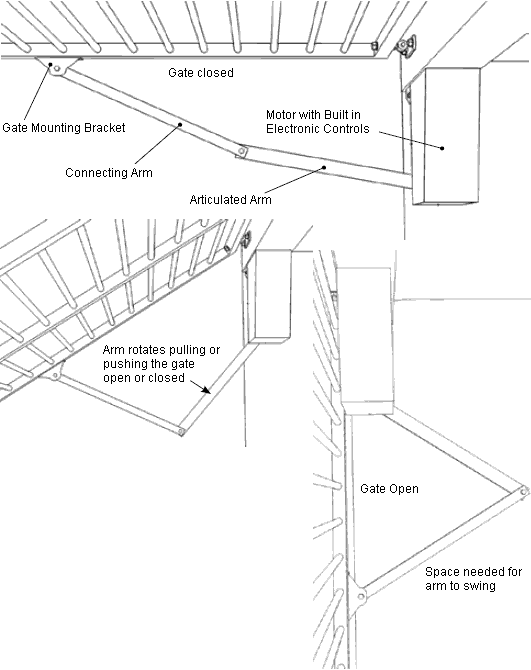 Articulated arm motors usually have a built in limit switches to set the open and close position of the gate with out the need for hard stops. The arm holds the gate in the closed position effectively locking the gate.
Double Swing Gates require a two motors, one for each side. Only one motor contains control electronics or has a control box, which controls both motors keeping them synchronised. The second motor requires a cable across the driveway. Normally only a two core cable is necessary as the limits switches cut power to the motor directly but some motors do require extra cable for the limit switches so it's a good idea to include five core cable anyway or a heavy duty 2 core and a lighter duty four core just in case.