How Trackless Bi-Folding Gates Work
Rather than a single swing gate that takes up a lot of a driveway a Trackless Bi-Folding gate or Cantilevered Folding gate as it is also know has two leaves like a double swing gate but they are hinged together, hung from one post and fold up like a concertina. They can either open inwards or outwards.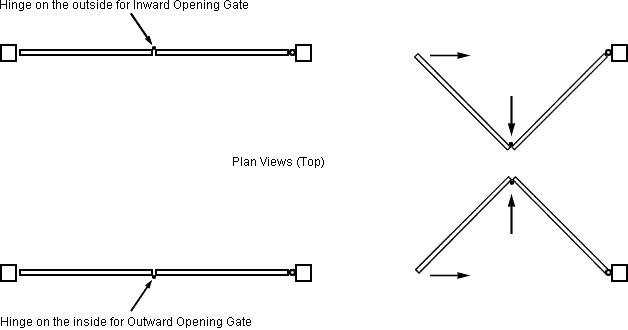 Custom Made
Trackless Folding gates can be designed with many different styles of gate to choose from and made up as a DIY kit sent anywhere in Australia or if you're in Brisbane I can install it for you.
The part that stumps most people with Bi-Folding gates is how to automate them. Ok a motor can be fitted to the first leaf to make it automatic like you would any other swing gate but how does the second leaf fold up?
Well I have designed a mechanism that I call 'Power Fold" that transfers movement of the first leaf to the second so it will fold up without using a track, so will work even if a driveway is sloping or a little uneven and won't restrict the height of the gate opening (like overhead tracks do). The way it works is a bit technical and best explained by the following drawing:
The video below is of a gate I installed three years ago followed by an animation of the advantages of the Power Fold mechanism.
To reduce space even further a double Bi-folding gate uses a quarter of the space that a single swing gate does, although these require two motors, a cable across the driveway and two Power Fold Mechanisms.
If you have a driveway that slopes up from the street and there's limited space then a rising bi-folding gate is a possible solution requiring 1/2 the space of a single rising gate or a double rising bi-folding gate requires 1/4 the space of a single.